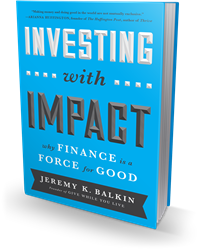 Boston, MA (PRWEB) May 19, 2015
Investing with Impact: How Finance is a Force for Good by Jeremy Balkin (Bibliomotion, May 19, 2015)
"If we can change the culture in finance, we can change the world." – Jeremy Balkin
For the past seven years, Jeremy Balkin has been on a quest to understand the real causes behind the global financial crisis of 2008, together with the role banking and finance play in society. In his search for the truth, it became evident that fundamental ethical questions between right and wrong were governing human behavior in corporate America. Described as the "Anti-Wolf of Wall Street" by the Huffington Post, he believes that the free market system is not broken, but can and should be harnessed to reduce income inequality and repair a broken world.
"My mission in life is to positively influence the allocation of capital, make money by doing good," he said in his 2013 TEDx talk. "This is what I call the noble cause."
In INVESTING WITH IMPACT: Why Finance is a Force for Good (Bibliomotion, May 19, 2015) Balkin explains that impact investing is the approach that intentionally seeks to achieve positive financial return and generate measurable social impact. He believes that if we can rebalance the ethical compass on Wall Street and harness financial resources for philanthropic ends, we can improve the state of the world and generate positive social results by correcting the mistakes of the past.
"If we can change the culture of finance, we will reform the system, we will kickstart this economy, and we will get the world spinning again in the right direction."
In the book, Balkin introduces his 6 E Paradigm – a new impact investment framework that focuses on transparency and objectivity, while elevating investor confidence in the marketplace to maximize the true holistic impact of an investment. He believes that this unique framework for approaching impact investing enables mainstream investors at any risk profile to positively influence the allocation of capital and democratize the $ 1 trillion impact investment universe.
INVESTING WITH IMPACT articulates why finance is a force for good, by proposing an ethical realignment of capitalism and laying out the roadmap to repair a broken world by exercising a new set of moral and ethical values. It is about inspiring high school and college students to pursue a career in finance. It is about encouraging disillusioned middle managers to stay in banking. It is about re-engineering the industry leadership to embrace the emergence of the Millennial Generation as their most important customer segment.
"The time is now to be reminded that the free market system with finance as the implementation mechanism is the greatest force for good the world has ever seen."

– Jeremy Balkin
About Jeremy Balkin:
Jeremy K. Balkin is regarded as an international thought leader on ethics in banking, impact investing, and the strategic engagement of millennials in financial services. In 2008, he survived a life-changing extreme sports injury that shaped his purpose to deploy financial resources to improve the state of the world.
The Huffington Post described Balkin as the "Anti-Wolf of Wall Street" for his work making the case that banking and finance are forces for good. His popular TEDx Talk, "The Noble Cause: Positively Influencing the Allocation of Capital" has been viewed over a quarter million times, and he has been invited to speak at Davos, the United Nations, and London School of Economics.

Balkin has run five marathons, received the prestigious UNSW Alumni Award for Achievement, and is designated as a Young Global Leader by the World Economic Forum. He has studied at the UNSW Business School, Financial Services Institute of Australasia, and Harvard Kennedy School.
Praise for Investing with Impact
"Jeremy's work is inspiring and important and speaks to the potential of a generation ready to change the world. He is a role model for young people eager to find new and innovative ways to make a difference." – Lynn Schusterman, co-chair of the Charles and Lynn Schusterman Family Foundation
"If impact investing becomes 'business as usual,' the future will be a much different place." – Dr. Judith Rodin, president, The Rockefeller Foundation
"Making money and doing good in the world are not mutually exclusive." – Arianna Huffington, founder, Huffington Post, and author of Thrive
"Leadership is much less about how to do, and much more about how to be. Jeremy Balkin's Investing with Impact makes a powerful case for ethical leadership in finance." – Frances Hesselbein, CEO, The Frances Hesselbein Leadership Institute; recipient of the Presidential Medal of Freedom
"Jeremy Balkin's Investing with Impact is a must-read for everyone on Wall Street." – Rina Kupferschmid-Rojas, founder & CEO, ESG Analytics AG
"Jeremy Balkin's insightful work, Investing with Impact, not only provides a powerful message that reshaping finance can be a powerful tool for social good, but sends a warning to the existing establishment that change is coming soon." – Kevin Steinberg, president & Head of Client Services, Purpose
"After all, I think that the banking system can – or should – be a force for economic development." – Antonio Simoes, CEO, HSBC UK
"Investing with Impact makes the robust case for market based innovation, combined with the power of entrepreneurship and capital markets to deliver measurable positive social impact." – The Hon. Dominic Perrottet, Minister for Finance and Services, NSW Government
"Impact investing is gathering force as more people seek to generate profit and social impact together. Jeremy Balkin's Investing with Impact reminds us that impact investing is ultimately a movement to reinfuse morality into markets with profound implications for how we live and work." – Antony Bugg-Levine, co-author of Impact Investing and CEO, Nonprofit Finance Fund
"Investing with Impact persuasively articulates how and why millennials will fundamentally transform Wall Street and corporate America." – Joan Kuhl, international speaker and author and founder of Why Millennials Matter
"Jeremy Balkin's TED Talk ignited a global movement. His book Investing with Impact shines the light on the exciting path ahead where finance is used as a force for good." – Shyno Mathew, co-organizer, TEDxColumbiaUniversity2015
"Leadership must get the culture right, provide clarity of purpose and then get out of the way." – Adrian Hondros, executive general manager, Commonwealth Private Bank
"Innovation and experimentation drive our high achievers to push the boundaries of that which is possible. Jeremy Balkin thinks outside the established paradigm and outlines how Investing with Impact can truly be achieved." – Professor Chris Styles, Dean, UNSW Business School
An Interview with Jeremy Balkin, Author of Investing with Impact
Q: What prompted you to write this book?
After my TED X talk, people from all over the world contacted me as they wanted to hear more about the values I articulated. It has been a tremendously humbling journey since then and I'm forever grateful to the wonderful people who supported this project from the start.
Q: How did the 2008 financial crisis bring to light some of the less salubrious aspects of Wall Street's cultural problems?
The global financial crisis demonstrated the consequences of a culture that misprices risk, disproportionately rewards success, and fails to penalize malpractice. But if we can ethically realign the values that shape the culture we can harness and scale global financial resources to repair the broken world.
Q: In the book, you say that investors need to put pressure on CEOs to make them accountable for the actions of their firms. What would you like them to be held accountable for?
We've seen the power of organized voters to influence political leaders to effect positive change, but we haven't necessarily seen the same effect in the investment community. In my opinion investors have the same ability to exercise their right to be heard, to mobilize their capital in such a way to ethically influence businesses to be good corporate citizens.
Q: What is the importance of wealth creation for the broader economy?
Free markets have delivered the greatest boost to prosperity and human achievement that the world has ever seen. However, we have witnessed that as the economy slowed down, income inequality has risen. Therefore it is imperative that we realign the ethical direction of the capitalist system to empower those who actively promote positive social impact and financial returns, to restore sustainable economic growth and prosperity.
Q: What are some specific ways or things that can be done to positively influence the allocation of capital? What is the incentive to "do good"?
Doing good is to do that which is morally right. In financial terms, the incentive is even more powerful to combine the virtues of profit making and positive social impact. All investors can participate by viewing Philanthropy as an asset class; investing in new infrastructure; being activist equity investors; funding pay for performance and social impact bonds; supporting FinTech entrepreneurs; and promoting financial inclusion strategies like Microfinance.
Q: What role can Millennials play in the reshaping of Wall Street?
I'm immensely hopeful about the Millennial Generation and the role they will play to clean up the mess they inherited. After all, Millennials understand the power of embracing technology, entrepreneurship and free market ideals to challenge the status quo and create solutions to problems thought intractable. These are the preconditions for an ethical transformation of corporate America and Wall Street as Millennials assume positions of leadership and greater responsibility in the near future.
Q: Can you please describe your 6 E Paradigm and explain why you think it will help to improve economic growth?
Imagine a world where every investor consciously measures their financial return and positive social impact. The 6 E Paradigm is a holistic approach to intentionally measure the true impact of an investment. It effectively unlocks the one trillion dollar impact investment universe and democratizes the investment landscape to investors of all sizes across the world. This means that capital markets will play a much more active role in generating sustainable economic growth and prosperity.
Related Income Inequality Press Releases