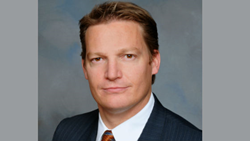 Hoboken, NJ (PRWEB) May 01, 2015
Kevin Mandia, a renowned information security executive and president of FireEye, Inc., will address the Stevens Institute of Technology Class of 2015 at the University's 143rd Commencement, which will take place Wednesday, May 20, 2015, at the Prudential Center in Newark, N.J. This year's commencement, which begins at 9 a.m., will include both undergraduate and graduate ceremonies. Mandia will be receiving the honorary Doctor of Engineering degree.
Mr. Mandia has spent more than 20 years in information security and has been at the forefront of helping organizations prepare for, respond to and contain computer security breaches for nearly 15 years.
"Kevin Mandia exemplifies the ingenuity, entrepreneurial spirit, and extraordinary technical expertise that Stevens aims to instill in each and every graduate," said Stevens President Nariman Farvardin. "I am delighted to welcome him as our 2015 Commencement speaker."
FireEye, a global network security company that provides real-time threat protection to businesses and governments worldwide against the next generation of cyber attacks, has more than 3,100 customers across 67 countries, including more than 200 members of the Fortune 500. Mr. Mandia oversees all FireEye operations, a role he assumed in 2014 when FireEye acquired Mandiant, a company he founded in 2004.
"Tomorrow's technologists and innovators will be essential resources in the struggle to overcome the increasingly sophisticated cyber attackers that threaten individuals, enterprises and governments worldwide," said Mr. Mandia. I'm honored to have the opportunity to address the Stevens Institute of Technology class of 2015, as this year's graduates represent the young people who will be expected to help lead this important battle as we move forward."
Mr. Mandia is internationally recognized as a pioneer and authority in the information security industry. His expertise, gained from serving on the front lines of major cyber security incidents, is routinely sought after by corporate directors, executives and government officials who face serious cyber security challenges. He has provided expert commentary and analysis on cyber security issues for NBC News, CBS, NPR, Fox News, CNN, The New York Times and The Wall Street Journal and other national print and broadcast media. In 2013, Mr. Mandia was profiled in a cover story in Fortune magazine. He has testified as an expert in U.S. federal court and has also provided testimony in hearings before the U.S. House and Senate intelligence committees.
Mr. Mandia has also developed specialized cyber security curricula for organizations, including the Federal Bureau of Investigation, United States Attorney's Office, United States Secret Service, United States Air Force and other U.S. government agencies.
He has been honored with many accolades and awards. In 2011, Mr. Mandia was named Ernst & Young Entrepreneur of the Year for the Greater Washington, D.C. region. In 2013, he was recognized by Foreign Policy magazine on its list of "100 Leading Global Thinkers."
Mr. Mandia received his bachelor's degree in computer science from Lafayette College and a master's degree in forensic science from The George Washington University. In 2013, he completed the three-year Harvard Business School Owner/President Management program.
The academic procession will start at 9 a.m., followed by Mr. Mandia's speech at 9:30 and the conferment of degrees to the Stevens Class of 2015.
Approximately 10,000 are expected to attend the ceremonies, including approximately 585 students earning bachelor's degrees and approximately 1,453 students earning master's and doctoral degrees.
For more information about Stevens' 143rd Commencement, visit http://www.stevens.edu/commencement.
About Stevens Institute of Technology
Stevens Institute of Technology, The Innovation University®, is a premier, private research university situated in Hoboken, N.J. overlooking the Manhattan skyline. Founded in 1870, technological innovation has been the hallmark and legacy of Stevens' education and research programs for more than 140 years. Within the university's three schools and one college, more than 6,800 undergraduate and graduate students collaborate with more than 380 faculty members in an interdisciplinary, student-centric, entrepreneurial environment to advance the frontiers of science and leverage technology to confront global challenges. Stevens is home to three national research centers of excellence, as well as joint research programs focused on critical industries such as healthcare, energy, finance, defense, maritime security, STEM education and coastal sustainability. Stevens is in the midst of a 10-year strategic plan, The Future. Ours to Create., designed to further extend the Stevens legacy to create a forward-looking and far-reaching institution with global impact.
Find More Foreign Policy Press Releases