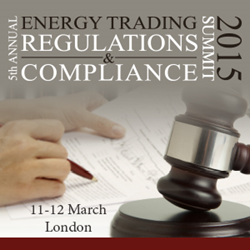 London (PRWEB UK) 13 November 2014
Regulatory compliance for energy traders has become more important than ever before. Companies have to get ready for implementation of new regulations and ensure full compliance throughout their organisations within the given timeframe. In its fifth edition, the ETRC Summit will gather legal professionals from regulatory authorities, energy trading companies, utilities and consultancies across Europe and globally to address current legal and compliance issues within the energy trading sector.
ETRC 2015 will examine latest developments around MiFID II, EMIR, CRD IV, MAD II, REMIT, and the Dodd-Frank Act. Representatives from Delta Energy, DONG Energy, Statkraft, Hess Corporation, ISDA, Gazprom, E.ON Trading, WINGAS, Shell, Axpo Italy and Regulators on a continental and a national level will examine exemptions under MiFID II; monitoring capacities and strategy in light of the new sanctions on market manipulation breaches under REMIT; the Dodd-Frank Act and its impact on Europe-based companies; margin and capital requirements under EMIR; MiFID licensing; the impact of CRD IV, and the upcoming regulations outside Europe.
ETRC 2015 is the fifth Summit organised by IRN following four successful editions since 2011, where each year over a 100 senior compliance experts and regulations' specialists from energy trading companies and banks such as Axpo, BP, ExxonMobil, E.ON, ENI, Gazprom, GDF Suez Trading, Hess Corporation, Petronas Energy Trading, BNP Paribas, RWE, BG Group and many others, have met to discuss the business implications of regulatory changes.
This edition of ETRC is sponsored by the ETR Advisory. The Summit is also endorsed by EFET, supported by ERRA, and will welcome representatives from financial regulatory bodies such as FCA, E-Control, the Federal Electricity Commission of Switzerland (ElCom) and the German National Regulator Bundesnetzagentur.
More information about this Summit is available on the website: http://www.etrcsummit.com.