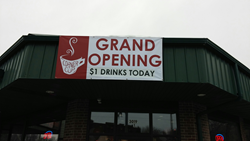 Columbus, Ohio (PRWEB) March 31, 2015
Another new coffee business has joined the community of independent coffee houses, cafés and bakeries supported by Ohio coffee roaster Crimson Cup Coffee & Tea. Owned by Stow native Heather Ciranna, Corner Cup Coffeehouse serves hot and frozen espresso drinks, gourmet teas, smoothies, and locally-made pastries at 3019 Graham Road in Stow, Ohio. The new coffee house held its grand opening March 10.
"We're excited to welcome Heather to the Crimson Cup community," said Greg Ubert, Crimson Cup founder and president. "We look forward to a long and productive partnership as Corner Cup flourishes in the Stow community."
Ciranna learned how to open a coffee shop through Crimson Cup's Seven Steps to Success coffee franchise alternative program. Based on Ubert's book, Seven Steps to Success in the Specialty Coffee Industry, the program teaches prospective coffee house owners everything they need to create a thriving business.
"Our program offers all the support of a coffee franchise – and more – but without franchise fees, royalties or business restrictions," Ubert noted.
"Owning a coffee shop is something I've wanted to do since I was about 15 years old," Ciranna said. "I wanted to create an environment for people to comfortably gather and connect. Coffeehouses have always represented that opportunity for me. I wanted to create a place to just BE … hence the 'BE' on my brick wall!"
Corner Cup held its soft opening Jan. 5 after Ciranna and her team completed Crimson Cup's initial, on-site training. During the March 10 grand opening, the team served 939 drinks. Two Corner Cup baristas entertained crowds with their Ukulele band, Brokulele. The shop also distributed raffle prizes donated by other local businesses.
Ciranna said she chose to work with Crimson Cup because of the company's excellent coffee and other products and because the company's core values align with her own as an entrepreneur.
"Amidst all of the moving parts of starting a business and learning the retail/coffeehouse industry from scratch, having Crimson as my supplier partner and consultants brings complete peace of mind to all areas of product and store operations," she said. "They've already figured it out, so I don't have to."
Crimson Cup developed its Seven Steps alternative to coffee shop franchises because Ubert believes independent coffee shops are more profitable and more enjoyable for the owners.
"Opening a coffee shop is often a labor of love for the owners," he said. "They soon discover it's hard work, but that the long hours are worth it because it's their baby."
Ciranna agreed. "The elements of my business that I want to make my own I can … i.e., the vibe, layout, décor, brand voice, community footprint … the rest of it is a no-fail, successful system that works when you follow it."
In client surveys, Crimson Cup has found that 85 percent of coffee-shop customers completing its Seven Steps to Success training program have been in business for five years or longer. By comparison, federal government statistics show that two of every three new restaurants – including independent coffee shops – close within three years of opening.
Using this proven system, Crimson Cup has helped open hundreds of independent coffee shops in 29 states since 1991. A dozen new coffee shops in eight states joined the Crimson Cup community in 2014 alone.
To learn more about Corner Cup Coffeehouse, visit the Corner Cup website.
About Crimson Cup Coffee & Tea
Since 1991, Crimson Cup Coffee & Tea has hand-roasted specialty coffee in Columbus, Ohio and taught independent business owners how to be successful through its coffee shop franchise alternative program. Sustainably sourced Crimson Cup coffee is available through a network of more than 350 independent coffee houses, grocers, college and universities, restaurants and food service operations across 29 states, as well as the company's own Crimson Cup Coffee House in the Columbus suburb of Clintonville. For more information, visit crimsoncup.com.